Visit Khora
We argue that you must experience XR to understand it.  
Virtual and augmented reality represent opportunities for deep immersion. Immersive experiences have an extraordinary potential to impact our industries, society and people positively. That's why many institutions and companies increasingly invest in VR and AR to solve challenges and meet desires that vary wildly in scope and ambition. And it's why Khora has produced 400 AR & VR applications in just six years – and keeps doing so. Visit us to get started and understand the reasons for working with the mediums.
Trine Tuxøe
Business Developer - Marketing and Communication


  +45 31 16 91 81
We work hands-on with use cases, trends and the latest hardware. Our facilitators guide you through hand-picked and relevant XR use cases tailored to your needs, and we aim to inspire you with examples that can spark new ideas and outside-the-box thinking. There are many angles! When using VR for mental health, it could be about new ways of diagnosing, screening and treating phobias and body dysmorphic disorders. XR within the cultural sector is often about enriching heritage communication and blending pasts, the  present and futures. XR in corporations could be about developing moving, immersive stories that increase customer awareness about critical visions or extending company architecture into the metaverse. XR could be about letting people step into someone else's shoes – fostering increased civic engagement and motivation to take action on urgent and encompassing issues like the energy crisis, climate crisis or the crisis of democracy.
"25 restaurant executives participating in the Copenhagen Food Forum experienced a mix of trying VR technology and hearing a really interesting presentation + facilitated discussion by Khora. It was a lot to digest – and just to grasp the consequences for their current businesses seemed overwhelming to some participants. But everyone definitely got a sense of how VR and AR will be a vital part of the future technology, we all have to plan for. Khora did a great job. Very inspiring."

– Søren Skafte Overgaard,
Organizer | Copenhagen Food Forum
"The Khora team did a fantastic job in demonstrating different VR solutions, benefits and explaining how and where VR is already being utilized across different industries and how it can be applied in the future. The demonstration of VR products and solutions was a great opportunity for the entire strategy team to develop new ideas on how this technology can be applied – not only in the future – but how it can be applied to our ongoing operation, engaging with stakeholders and bring a company that operates globally closer together."

– Jonas Boesen Roiy,
Head of Risk Management | Maersk Supply Service A/S
"Khora catered to our team-event with the perfect combination of cutting edge entertainment fun and intriguing industry insights – resulting in a unique social experience, and inspiration for future projects."

– Mads Balsig,
Senior Consultant | Qvartz
"Our company visited Khora Virtual Reality on a team spirit event and we all had an amazing experience. Everyone enjoyed trying VR (and watch each other doing it ) and we also found it really interesting to hear about the future of VR (1 hour presentation). We had a lot to talk about over dinner afterwards."

– Fie Schødt,
HR Country Specialist | AT&T
"Khora's workshop was a part of 'Creative Capacity and Digital Leadership' course for Public Service Top Executives from 4 North European Countries. Khora's part got top ratings because of their raw startup atmosphere, the participants ability to get hands-on with the tech, and a presentation with relevant perspectives given by an expert in the field. All participants brought home a solid understanding of VR and AR."

– Jacob Lennheden,
Managing Partner | CINC – Copenhagen Institute of NeuroCreativity
Dive with sharks, fly like a falcon or try immersive contemporary art. This workshop gives you a one-hour introduction to immersion at Khora. It is for those looking for new ways of entertainment or who feel curious to dip their toes into VR games and experiences. Perfect for team building, small groups or individuals who want to try and have fun with VR. Khora's experience managers will guide the process according to interests and wishes.
Max of 12 participants

45min-1 hour (or longer, depending on the number of visitors)
250 DKK per participant (+50 DKK per person for drinks and snacks, optional)
Intro to the Metaverse, VR & AR
This workshop is for groups who would like a basic introduction to the space of extended reality – XR. Learn how it all began, how VR and AR are evolving to help to address challenges at various levels and gain insights into what is meant by 'the Metaverse'. The XR demo session concludes with a general presentation followed by a Q&A.
5 – 35 participants 

Approx. 1-1,5 hour 
500 DKK ex. VAT per participant
(+50 DKK per person for drinks and snacks, optional) 
Learn how to get XR into both strategy and concrete initiatives with a dedicated focus from Khora on you. Our workshops focus on driving a more profound understanding of XR and the challenges and opportunities it creates – now and in the future. We tailor your workshop at Khora to your needs and your current knowledge of XR, aiming to help you sense and navigate what your future might look like when VR and AR become a part of people's everyday work and personal lives.
Our approach
Prime & Discover:

Try XR, get familiar with the technologies and dive into cases and relevant trends with a dedicated focus on your market, target audience or sector

Imagine & Build:

Ideate and explore relevant and practical applications of XR, and learn more about what it takes (effort, time and costs) to turn ideas into experiences.

Digest:

We can offer documentation from the day with photos, outlines of critical ideas developed, quotes and communications-friendly material so that your experience at Khora becomes memorable, actionable and lasting. 

3-35 people (or more, talk to us for more details)
Duration

: 2-5 hours, with or without lunch but with plenty of micro breaks to digest and consider.

Cost

: This depends on your needs and desires. Our processes are scalable, and we always find a solution that works.
Each organisation and team are unique. Therefore, we tailor the workshop in dialogue with you to meet your needs, ambitions, and challenges. Contact us, and we'll assign the right team member to get you started.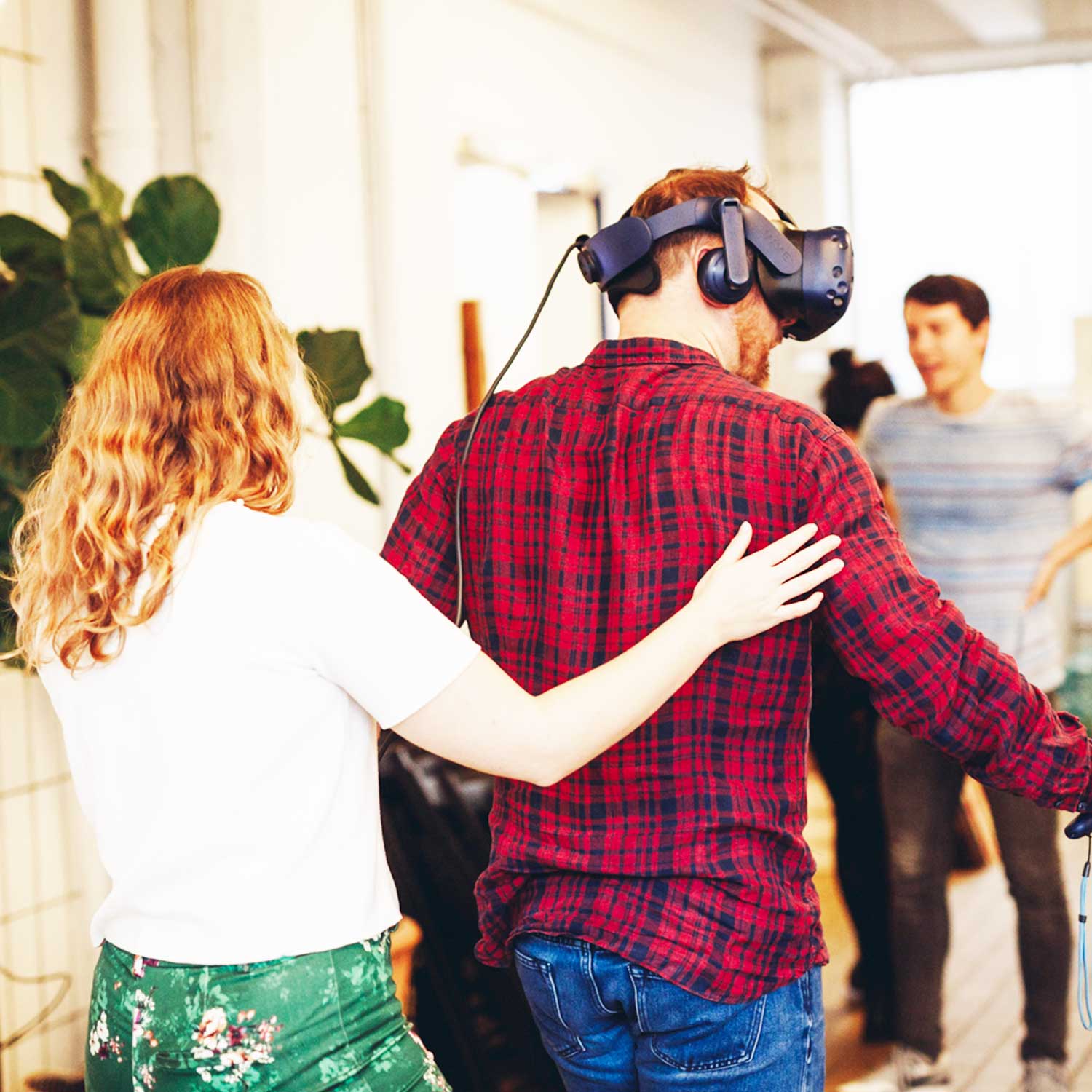 You can't come to Khora to experience VR? Don't worry! We can take VR and AR to your event. We have a vast experience in demonstrating the technology at different events across the world, we provide the equipment, setup on location and have a professional team ready to assist your guests or staff.
Let us know when, where, and how many people is the event for, and if you have any special requests of things that you would want to do in VR/AR.
Here is what people have to say about bringing us to their events:
We have a team of XR specialists with a vast experience of presenting the future and the potential of VR and AR around the world. Our presenters have stepped on multiple tech related stages of conferences such as CopenX, Creative Summit, Techfestival, TechBBQ and TEDxOdense. We address topics like:
The Blurred Reality future (Metaverse), where VR & AR will intersect with IoT and AI, and will change the way we interact with technology
The future of museums
Using VR & AR in healthcare and welfare
Marketing with immersive technologies
Using VR & AR in training
Virtual Commerce
and more…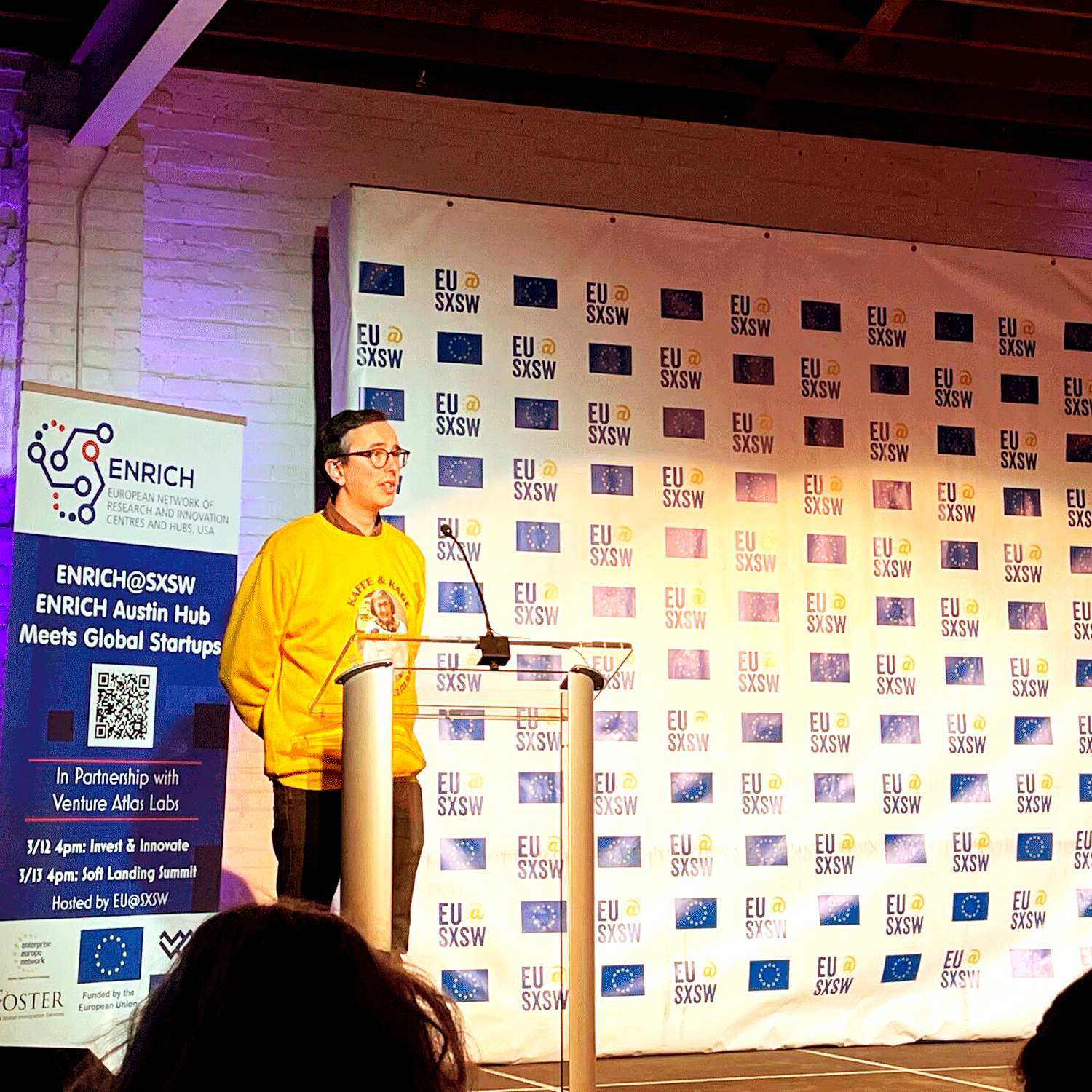 Virtual Reality and Augmented Reality are here to stay, and will impact the way the youth of today will live and work tomorrow. Professionals in Sciences, History, Business, Arts, and Technology areas are already using VR and AR to their benefit, and the applications will only continue to multiply.
Our school workshops take between 1 to 1,5 hours depending on group size and include a demonstration of the different headsets, different VR experiences, and an interactive lecture and assignment about the world of virtual reality.
Get your students ready for what tomorrow brings, by introducing them to the future today.
We offer school workshops for Folkeskoler, Efterskole, Højskoler, Gymnasier/High Schools, Erhvervskoler & Universities. We can accommodate groups of up to 25 students.
Language for the workshops: English
Up to 25 students
Price: 120 kr. pr/ person (excl. vat.) – minimum 1.500kr.
Typical themes
Please write us with your ideas and needs and we will get back to you with suggestions. Below are a few examples of what we often focus on.
Introduction to VR/AR/MR
What is the difference between Virtual Reality, Augmented Reality, and Mixed Reality? How has this technology developed in the last decades and where are we headed?

Learn how AR and VR is being applied today, from social media and shopping to education and healthcare. We'll also discuss the opportunities and the limitations of the technology.
Empathy and VR
VR makes it possible to experience the world from new angles. You can experience standing in a refugee camp, becoming homeless, turning blind, just to name a few examples. Some have called VR technology an "empathy machine". 
In this workshop we will discuss some of the research behind the link between VR and empathy. We'll also look at some use-cases that attempt to use VR to enable behavior change and view the world from another person's perspective.
Creating AR and VR
For those that have an interest in designing VR and a basic knowledge of the terms and concepts used in this field – we offer a workshop focussed on idea development and product creation. 
We will discuss the most common methods and tools used to create in VR, what their possibilities and limitations are, and what costs are involved in making a project with each of them.